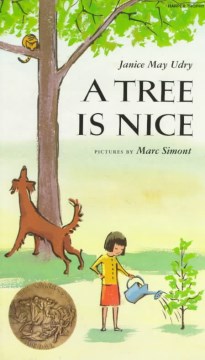 Title & Author: A Tree is Nice by Janice May Udry
Summary: Trees of all shapes and sizes have endless uses. They can be climbed, provide fruit, shade, and homes for animals. They are also something to be proud of you if you plant your own.
Reference: Udry, J. M. (1956). A tree is nice. New York, NY: HarperCollins.
My Impressions: This 1957 Caldecott Medal winner (illus. by Marc Simont) still has relevance. While the illustrations might not be catchy in the eyes of today's young people, the story still is. This book is not just about the environment, but about community, as well, and how the natural environment can play into community health and well being, in addition to development.
Professional Review:
A nursery school approach to a general concept. "Atreeisnice"- Why? Because..." We can climb the tree...play pirate ship...pick the apples...build playhouses out of the leaves. Atreeisnice to hang a swing in...Birds build nests in trees... Sticks come off trees...People have picnics there too"...etc. etc. One follows the give and take of a shared succession of reactions to what a tree- or trees- can mean. There isa kind of poetic simplicity that is innate in small children. Marc Simont has made the pictures, half in full color, and they too have a childlike directness (with an underlying sophistication that adults will recognize). Not a book for everyone -but those who like it will like it immensely. The format (6(apple) x 11(apple)) makes it a difficult book for shelving, so put it in the "clean hands" section of flat books. Here's your first book for Arbor Day use- a good spring and summer item.
A tree is nice. (1956, June 15). [Review of the book A tree is nice by Janice May Udry]. Kirkus Reviews, June 15, 1956. Retrieved from http://www.kirkusreviews.com/
Library Uses: There are many uses for a book like this in Boise, Idaho -- the city of trees! In addition to using it to celebrate Arbor Day, a librarian could use it to talk about the city's annual event centered around trees and community, "Rake Up Boise." Students could look at all the different trees in the book, and compare them with photos of Boise to determine what kinds of trees might be central to our community event.